Dr.Griffiths is a Gerontologist and Health Research Scientist in the CVNR. She earned her B.S. in Psychology Summa Cum Laude from Trinity College of VT followed by a MS. in Life-Span Developmental Psychology from the Pennsylvania State University. Dr. Griffiths was awarded a fellowship from the National Institutes on Aging to travel to the Institute of Gerontology in Jonkoping Sweden to complete her Doctoral Degree.
Dr. Griffiths holds appointments as Investigator in the Department of Veterans Affairs Birmingham/Atlanta Geriatric Research Education and Clinical Center, Senior Research Scientist at GA Tech's Center for Assistive Technology and Environmental Access, Assistant Professor in the Division of General Medicine and Geriatrics and Adjunct Professor at the Nell Hodgson School of Nursing at Emory University in Atlanta. Dr. Griffiths is a member of the education core for the Emory University Alzheimer's Disease Research Center.
Dr. Griffiths serves as chair for a Distinguished Lecture Series in honor of her longtime mentor and friend Bettye Rose Connell, PhD. This memorial Lecture was instituted to discuss and honor important contributions that Dr. Connell made to the fields of gerontology, architecture, design of the physical environment and interactions between the physical environment, aging and behavior. This annual springtime event allows junior investigators from Emory University, the Atlanta region, and the state of Georgia to get to know and interact with important national leaders in gerontology research through the format of the lectureship and fellowship. 
Research Interests:

Dr. Griffiths' research focuses multi-component technology-based cognitive-behavioral, psycho-educational and meditation interventions to improve quality of life for Veterans and their caregivers with and without dementia. Within the context of aging and caregiving, her research interests include continuity and change in the constructs of sleep, depression, burden, pain and spirituality. She is particularly interested in strategies to enhance and promote aging in place and aging with choice  which will prevent or delay unwanted institutionalization. These include the use of tele-health devices and technology to augment or deliver intervention components. Dr. Griffiths serves on national committees devoted to supporting caregivers of Veterans and enhancing effective communication skills with persons with dementia.
Current Projects:
Dr. Griffiths is the lead of the ATL site for GRECC Connect a clinical demonstration program funded through the offices of rural health to deliver comprehensive  geriatric assessments, dementia evaluations and medication reconciliation to rural Veterans through video-tele-conferencing. 
Dr. Griffiths is Co-PI of an NIH R01 to examine the effects of the Tele-Savvy program on caregivers of a person living with dementia. 
Publications:

Loading publications...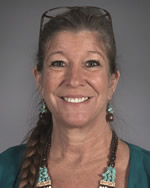 Phone: (404) 321-6111 x 207138
Fax: (404) 728-4837
Email: pcgriff@emory.edu
Title(s)/Position(s):
Research Health Scientist (Atlanta CVNR)
Investigator (Birmingham-Atlanta VA GRECC)
Assistant Professor (Emory University Division of General Medicine and Geriatrics)
Senior Research Scientist (Center for Assistive Technology & Environmental Access – GA Tech)
Education Core Member (Emory Alzheimer's Disease Research Center)