Joe is a Health Science Specialist. He received his BS in Movement and Sport Science from Springfield College, and his MEd in Administration at The College at Brockport. He is also a Certified Strength and Conditioning Specialist with the National Strength and Conditioning Association. 
Joe is currently working on several studies with Dr. Madeleine Hackney and Dr. Joe Nocera, examining the effects of exercise intervention in Parkinson's and assisting with testing, study coordination, assessments and data collection.
Research Interests:

Other research interests include functional exercise and mobility, cognitive effects of exercise, and the effects of unilateral versus bilateral exercises on strength, balance and stability.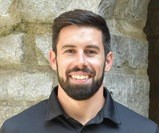 E-mail:  Joseph.Baia@va.gov
Title(s)/Position(s):
Health Science Specialist