Dr Amy Rodriguez is a research scientist with the Department of Veterans Affairs. Dr. Rodriguez earned a Bachelor of Science in Speech Pathology & Audiology from West Virginia University in 1998 and a Master of Arts in Communication Disorders from University of Central Florida in 2000. After completing a one-year clinical fellowship at Shands Teaching Hospital at the University of Florida, Dr. Rodriguez earned her certificate of clinical competence in speech-language pathology. From 2001-2004, she worked as a research speech-language pathologist at the VARRD Center of Excellence in Brain Rehabilitation Research Center (Malcom Randall VA Medical Center, Gainesville, FL). After three years of experience implementing aphasia rehabilitation studies, Dr. Rodriguez decided to pursue her doctoral degree. In 2010, she graduated from the University of Florida with a PhD in Rehabilitation Science. Following her graduate studies, Dr. Rodriguez completed 4.5 years of postdoctoral research training. She held a one-year NIH T-32 fellowship in the Department of Neurology at the University of Florida and a 3.5 year fellowship in the Centre for Clinical Research Excellence in Aphasia Rehabilitation at the University of Queensland in Brisbane, Australia. Dr. Rodriguez's work focuses on development of neuroplasticity-based interventions to improve language and cognitive function in healthy older adults and individuals with aphasia.
Research Interests:

Research Interests:  Aging, Aphasia, Exercise, Treatment Dosage
J Dignam, AD Rodriguez, & D Copland. Evidence for intensive aphasia therapy: Consideration of theories from neuroscience and cognitive psychology. Physical Medicine & Rehabilitation. DOI:10.1016/j.pmrj.2015.06.010

J Dignam, D Copland, E McKinnon, P Burfein, K O'Brien, A Farrell & AD Rodriguez. A non-randomised, parallel-groups, dosage-controlled study of intensive versus distributed aphasia therapy. Stroke. DOI: 10.1161/STROKEAHA.115.009522

C Brandenburg, L Worrall, D Copland, E Power & AD Rodriguez (2015).The development and accuracy testing of CommFit™, an iPhone application for individuals with aphasia. Aphasiology. DOI:10.1080/02687038.2015.1028329

C Brandenburg, L Worrall, AD Rodriguez & KS Bagraith (2015). Crosswalk of participation self-report measures for aphasia to the ICF: What content is being measured? Disability and Rehabilitation. 37(13), 1113-24.

M Meinzer, S Jähnigen, D Copland, R Darkow, U Grittner, K Avirame, AD Rodriguez, R Lindenberg, & A Floel (2014). Transcranial direct current stimulation over multiple days improves learning and maintenance of a novel vocabulary. Cortex, 50, 137-147.

J Reilly, S Harnish, A Garcia, J Hung, AD Rodriguez & B Crosson (2014). Lesion symptom mapping of manipulable object naming in nonfluent aphasia: Can a brain be both embodied and disembodied? Cognitive Neuropsychology, 31(4), 1-26.

AD Rodriguez, L Worrall, K Brown, B Grohn, E McKinnon, C Pearson, S Van Hees, T Roxbury, P Cornwell, A Macdonald, A Angwin, E Cardell, B Davidson, & D Copland (2013). Aphasia LIFT: Exploratory investigation of an intensive comprehensive therapy program. Aphasiology, 27(11), 1339-1361.

C Brandenburg, L Worrall, A Rodriguez & D Copland (2013). Mobile computing technology and aphasia: Accessibility and potential uses. Aphasiology, 27(4), 444-461.

AD Rodriguez, ML McCabe, JR Nocera & J Reilly (2012). Concurrent Word Generation and Motor Performance: Further Evidence for Language-Motor Interaction. PLoS One, 7(5), e37094.

M Meinzer, AD Rodriguez, & LJG Rothi (2012). The first decade of research on constrained-induced treatment approaches for aphasia rehabilitation. Archives of Physical Medicine and Rehabilitation, 93(1), S34-S45.

J Reilly, AD Rodriguez, J Peelle & M Grossman (2011). Frontal lobe damage impairs process and content in semantic memory: Evidence from category-specific effects in progressive nonfluent aphasia. Cortex, 47(6), 645-658.

H Park, Y Rogalski, AD Rodriguez, Z Zlatar, M Benjamin, S Harnish, J Bennet, J Rosenbek, B Crosson & J. Reilly (2011). Perceptual cues used by listeners to discriminate fluent from nonfluent narrative discourse. Aphasiology, 25(9), 998-1015.

M Meinzer, C Breitenstein, U Westerhoff, J Sommer, N Rosser, AD Rodriguez, S Harnish, S Knecht & A Floel (2010). Motor cortex pre-activation facilitates word retrieval in aphasia. Neurorehabilitation and Neural Repair, 25(2), 178-187.

J Reilly, AD Rodriguez, M Lamy, & J Neils-Strunjas (2010). Cognition, language, and clinical pathological features of non-Alzheimer's dementias: An overview. Journal of Communication Disorders, 43, 438-452.

AD Rodriguez (2009).Aprosodia secondary to right hemisphere damage. Perspectives on Neurophysiology and Neurogenic Speech and Language Disorders, 19(3), 71-76.

EK Plowman-Prine, MS Okun, CM Sapienza, R Shrivastav, HH Fernandez, KD Foote, C Ellis, AD Rodriguez, LM Burkhead, & JC Rosenbek (2009). Perceptual characteristics of Parkinsonian speech: A comparison of the pharmacological effects of levodopa across speech and non-speech motor systems. Neurorehabilitation, 24, 131-144.

SA Leon & AD Rodriguez (2008).Aprosodia and its treatment. Perspectives on Neurophysiology and Neurogenic Speech and Language Disorders, 18, 66-72.

T Ketterson, R Glueckauf, L Blonder, D Gustafson, N Donovan, A Rodriguez, D Pekich, & C Ley (2008). Reliability and validity of the Functional Outcome Questionnaire for Aphasia (FOQ-A). Rehabilitation Psychology, 53(2), 215–223.

LJ Buxbaum, KY Haaland, M Hallett, L Wheaton, KM Heilman, A Rodriguez, & LJG Rothi (2008). Treatment of limb apraxia: Moving forward to improved action. American Journal of Physical Medicine & Rehabilitation, 87(2), 149-161.

B Crosson, KR Fabrizio, F Singletary, MA Cato, CE Wierenga, RB Parkinson, ME Gaiefsky, AB Moore, M Ciampitti, E Holiway, S Leon, A Rodriguez, DL Kendall, IF Levy, & LJG Rothi (2007). Treatment of naming in nonfluent aphasia through manipulation of intention and attention: A phase 1 comparison of two novel treatments. Journal of the International Neuropsychological Society, 13(4),582-594.

AD Rodriguez & LJG Rothi (2006). Even broken clocks are right twice a day: The utility of models in the clinical reasoning process. Advances in Speech-Language Pathology, 8(2), 120-123.

JC Rosenbek, AD Rodriguez, B Hieber, SA Leon, GP Crucian, TU Ketterson, M Ciampitti, F Singletary, KM Heilman, & LJ Gonzalez Rothi (2006). Effects of two treatments for expressive aprosodia secondary to stroke. Journal of Rehabilitation Research and Development, 43(3), 379-90.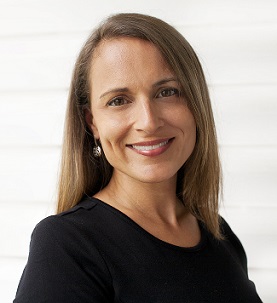 Phone: (404) 321-6111 x 4201
Fax: (404) 728-4837
Email: Amy.Rodriguez@va.gov
Title(s)/Position(s):
Research Health Scientist, CVNR
Honorary Research Fellow, University of Queensland