Dr. Joe Nocera has made numerous and meaningful contributions to the investigation of the beneficial impact of exercise on both physical and cognitive health in aging and aging-related neurological disease. He is a recognized leader in the field of functional changes in cortical activity following exercise. He has been continuously funded by federal grants since 2010 as a recipient of VA Career Development Award and Merit awards.
In conjunction with his colleagues in the Brain Imaging Research Lab, Dr. Nocera has initiated a line of research demonstrating that aerobic exercise can alter cortical activation patterns in older adults (65+ years of age) that more resembles the cortical activation pattern associated with younger adults (<30 years of age). Importantly, these changes in brain behavior are associated with improved performance on cognitive and motor tasks that decline as a hallmark of aging.
In 2019, Dr. Nocera was the recipient of a Merit Award (scored at the 1st percentile) which seeks to further understand the positive impact of exercise on brain health. This proposal will evaluate two cerebrovascular measures, cerebrovascular perfusion and cerebrovascular reactivity, before and after a proven aerobic exercise intervention in older adults. This information will be critical to inform the impact of exercise on cerebrovascular health which is known to be negatively impacted in aging and implicated in the development of neurogenerative disease.
Since 2016 Dr. Nocera has also served as the Director of the Physical Exercise Core. This Core oversees and facilitates numerous federally funded trials with the common goals of understanding mechanisms of change seen with exercise in patient and non-patient populations. Additionally, the Core is actively engaged in community-based implementation of evidence-based exercise trials. Populations the Core has served include: aging, mild cognitive impairment, Parkinson's disease, chronic kidney disease, stroke and schizophrenia.
In addition to his work in research, Dr. Nocera is committing and a strong advocate of student teaching in both the laboratory and classroom setting. He currently Co-directs the Systems Physiology Course within the Division of Physical Therapy at Emory. He also continually serves as a primary mentor for both the Doctoral of Physical Therapy Clinical Research Program and Emory University's Discovery Program, a 5-month, full time research experience for Emory Medical Students. In addition, he serves as a mentor and committee member (current and past) of graduate students at Emory, Georgia Tech and Georgia State University. Dr. Nocera is an Associate Professor in the School of Medicine at Emory University in the Departments of Rehabilitation Medicine and Neurology.
Research Interests:

Aging; Parkinson's; Disease; Mobility; Exercise; Cognition; Dual Tasks
Publications: https://www.ncbi.nlm.nih.gov/myncbi/joe.nocera.1/bibliography/public/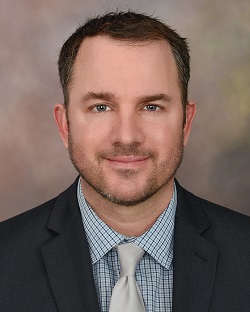 Phone: (404) 321-6111 x 206354
Email: joenocera@emory.edu 
Link: http://neurology.emory.edu/faculty/neuro_rehab/nocera_joe.html
Link: https://www.emorydpt.org/dr-joe-nocera-ph-d/
Title(s)/Position(s):
CVNR Interim Executive Director
Director of CVNR Physical Exercise Core

Associate Professor, Division of Physical Therapy and Department of Neurology, School of Medicine, Emory University